---
H A R R I S O N · B A N K S
Architecture for the Horse Industry
107 Garland Road · Newton, Massachusetts 02459 USA
Telephone: 617-236-1876 · Facsimile: 617-247-3907
E-Mail: Harrison-Banks
---

---
About Harrison·Banks | Horse-Related Projects

Equine Links | Other Links


---
The architectural practice of Harrison·Banks specializes in design for the horse industry. Harrison·Banks' expertise in the design of equestrian facilities is the result of over twenty years experience in building design, and over thirty years experience in equestrian activities. Harrison·Banks' intimate understanding of day to day facility operation is translated into high quality design, gracefully blending aesthetic and functional criteria.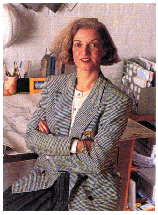 Hannah Banks, Harrison·Banks' principal, is an award-winning horseperson. She keeps abreast of the horse industry through memberships in the American Horse Council, USA Equestrian (formerly the American Horse Shows Association), and the United States Eventing Association (formerly the United States Combined Training Association). In addition to knowledge acquired in the design of equestrian projects, Ms. Banks actively studies market and practice trends in the horse industry, through extensive travel and investigation of active, successful facilities in the United States and Europe. Her knowledge of equestrian project development, use, and detailing, creates environments that provide pleasure for those who use them, are successfully sited, and effectively fulfill program requirements.
Harrison·Banks brings to each project its unique combination of experience in designing equestrian facilities, profound understanding of the needs of equestrian disciplines, and command of animal safety standards. Our contribution ensures design integrity and harmony, uniting concern for human and animal users with the functional requirements of the project.
A woman-owned business enterprise, Harrison·Banks' services include:
·Economic and market studies
·Site planning
·Programming
·Building Design
·Construction document preparation, and
·Construction administration.
The firm has planned and designed public and private equestrian facilities throughout the United States. With flexible staffing to meet project needs, the firm is supported by computerized scheduling, budgeting, design and documentation.
Let us help make your project a success!
---
Eventing Barn, Rhode Island
Harrison·Banks designed an 8-stall barn for a Three Day Event rider. Large stalls and a stone facade characterize this barn which is harmonious with the existing buildings on this 88 acre property. Construction completed Winter 2003.
Ford Plantation Equestrian Center, Georgia
Consulting with the developer and local architect, Harrison·Banks assisted in the design of a 22-stall barn. The design is in keeping with the architectural guidelines of the private gated community. Completed in 2002.
Indoor Riding Arena, New York
For a private client, Harrison·Banks designed an indoor riding arena on a large site. The arena has Glu-lam arches, and is built into a hill, diminishing its mass. The exterior has a stone base with clapboard above, large windows, and a two-story observation area. Construction completed in summer 2003.
Nantucket Farm, Massachusetts
Collaborating with a landscape architect and local architect, Harrison·Banks designed a four-stall barn and equipment building. These structures complete a complex consisting of an existing house, pool house and two guest houses. The project complies with historical commission guidelines, with its natural cedar shingle siding and roof. Completed in 2002.
Private Farm, Virginia
Harrison·Banks provided site and barn design for a four-stall barn, equipment and hay building, and covered round pen on a 200 acre site. Designed for a young couple on Virginia's Eastern Shore, the barn complex abuts an existing grove of trees for protection from the sea's winter winds. Three large pastures surround the barn. Barn design builds on Eastern Shore vernacular architecture. Construction complete in 2001.
Recreational Driving Facility, New York
On 33 acres near Buffalo, Harrison·Banks designed a driving facility and small breeding operation. A barn for 10 horses and four mares and foals, isolation barn for visiting mares, indoor driving arena, covered octagonal round pen, show carriage display, and staff housing comprise the program. Also included are a driven dressage arena, paddocks and carriage house designed in joint venture with Machado|Blake Design .
Private Equestrian Center, Hawaii
For a combination residential and show facility on extremely challenging topography, Harrison·Banks established siting strategies. A highly articulated program included a 16-stall owner's barn, a 20-stall boarding barn, multiple paddocks, large and small riding arenas with judges' stands and grandstands, as well as a large hay, shavings and equipment structure, a small veterinary facility, and three staff houses.
Pecan Alley Farm, South Carolina
Harrison·Banks created the exterior for a 10-stall Morton Buildings barn on a 160 acre site outside Greenville. In a joint venture, Machado|Blake Design designed a 6,000 square foot, Plantation-style house. Set at the end of a majestic pecan allee, the house presents an elegant facade. Building on themes developed for the house, the barn has stately columns and a porch overlooking the outdoor riding arena. Barn completed 2001.
Pine Meadow Farm, North Carolina
A 3,200 square foot, Plantation-style house and 10-stall barn were designed by Harrison·Banks in joint venture with Machado|Blake Design, on a 15 acre site outside Charlotte. Designed for a family who enjoys dressage and jumping, this private facility has four large paddocks, and dressage arena, as well as a large jumping arena. Completed in 2001.
Kingbrook Club Community, New York
Harrison·Banks completed a feasibility and planning study for an equestrian center to be developed for a 1,200 acre gated club community offering skiing, golf and riding near Buffalo. The facility is anticipated to provide a boarding, training, clinic, and show facility with its projected 48 stalls, exhibition-size indoor arena, and outdoor arenas. Building design is expected to begin next year.
Equestrian Resort, Connecticut
Consulting to Centerbrook Architects, Harrison·Banks designed an equestrian resort on 400 acres. The project included a large indoor arena for rodeos and other events, had 120 horses in three barns, and provided a carriage storage building, as well as restaurants, locker rooms and guest facilities.
Camp Lake of the Woods Equestrian Center, Missouri
Working as a consultant to a landscape architect, Harrison·Banks expanded a 12-horse facility to a 20-stall barn and added an indoor arena. The program offers riding programs for children and adults. As part of a day camp in a 1,880 acre Olmstead-designed city park, the redesign must accommodate challenging topography. The project was completed in Fall 1999.
Plains Property, Virginia
For a Washington, DC couple, Harrison·Banks worked with the client's architect and landscape architects to design an equestrian complex as part of a 2,000 acre estate. Built around the ruined stone foundation walls of a old bank barn, the center includes an eight stall barn (expandable to 14), a hay barn, groom's quarters, and farm manager's dwelling, outdoor exercise arena and two very large paddocks with run-in sheds. The project is designed to accommodate the owners' Western style riding.
Paduka Run, New York
For a dedicated equestrian couple, Harrison·Banks created a carefully designed six-stall barn attached to a regulation indoor dressage arena. Nestled in the woods to conceal its mass, the indoor arena has glu-lam arches, giving it a gracefully arched ceiling. The barn gives a airy open feeling, with an opening, through the hay loft floor, from the roof to the stalls below. The project is designed to be complementary to the owners' house, using similar materials and colors. Completed 1996.
Mothersfield, New York
Designed for an active Three-Day Event rider and trainer, this project provides a barn for twenty horses attached to a regulation indoor dressage arena, giving maximum protection from the weather. Working with a very restricted budget, the project put design flourishes on the portion of the project visible from the road, leaving the rest of the building attractively utilitarian. Completed Spring 1997.
Pirouette Farm, Massachusetts
This project consisted of renovation of a 1790's farmhouse, conversion of a gambrel-roofed bank-style cow barn into a barn for six horses, construction of a free-standing indoor riding arena, and creation of paddocks and an outdoor arena. Adhering to a very tight budget, and on limited acreage, the project created a cohesive, efficient, complex. Completed 1994.
1996 Olympic Equestrian Facilities, Georgia
Harrison·Banks was a member of a short-listed team competing for the design of the equestrian facilities for the Atlanta Games. Work involved schematic design for a project meeting the needs of 400 horses and a multitude of competitors, spectators, and VIP's participating in the sports of the Three-Day Event, show jumping and dressage.
Dressage Facility and Residence, Massachusetts
This in-town farm residence is designed for a successful author who escapes from her writing to the order of dressage. A barn for four horses is designed for expansion to six stalls, with the two unused stalls used for tack and feed storage. Paddocks flank either side of the barn and are immediately accessible. In a small tree-bordered valley, the regulation dressage arena provides seclusion. Room for trailer loading is provided at the barn entrance. The house is sited to shield the barn from view by existing neighbors and also acts as a security point.
Green Mountain Resort, Washington
Having prepared an economic feasibility and market viability study for an equestrian competition facility as a major component of a 400 acre destination resort near Portland, Oregon, Harrison·Banks expects to begin programming and design for the project soon. Disciplines to be accommodated include: dressage, combined training, show jumping, combined driving, and hunter/jumper. The project will create facilities for upper level competitions in the Pacific Northwest.
Boxborough Equestrian Park, Massachusetts
This 70 acre horse show facility for 200 horses will satisfy the needs of many disciplines: combined driving, combined training, dressage, hunters, and Grand Prix jumping. Clear separation between competitor and spectator traffic makes the facility safe and easy to use. Natural landscape features are incorporated; trails connect to 300 acres of wooded conservation land, site of future cross-country courses. In planning.
Residential Community, Virginia
Harrison·Banks was the equestrian architectural consultant, providing economic, market and site evaluation studies, on the conversion of an existing Thoroughbred breeding and training farm into a new small town, with village center and outlying large residential lots. Equestrian activities utilizing the existing facilities and ambiance of the farm were to be a major focus of the community, maximizing the development potential of the land while maintaining open space and general rural feeling of the property.
Public Stables, Boston, Massachusetts
Located on a small site near a large park in a Boston residential neighborhood, this public stable was to have offered riding lessons and trail rides in the park. Replacing a previously existing public stable, the project consisted of a 70 horse barn, indoor arena with observation area and a manager's apartment. Outdoors were an outdoor riding ring, paddocks and parking. The barn was be two stories tall, with stalls on both levels; ramps would have allowed horses to go between floors. The architecture of the barn and indoor arena were to blend with the surrounding buildings in the neighborhood.
Grand Prix Farms at Palm Beach, Florida
330 acre project adjoining the Palm Beach Polo and Country Club. Harrison·Banks worked with the developer and his planning team in creating this facility for high-ranking show jumping competitors, and for those who enjoy an equestrian ambiance. Rider lots, in multiples of 2.5 acre parcels, were designed primarily for barns and paddocks. 1 acre lots in an area connected to, but separate from the riders' area, were available for non-riders.
Show Horse Barn, Virginia *
A private 36 horse facility. Site selection, planning and careful programming resulted in two 18 stall barns with wash stalls, tack, utility, and feed rooms. The project included a lounge, offices, staff housing, hay barn, paddocks and outdoor dressage arena. A covered arcade links the buildings.
Dressage Barn, Massachusetts *
A private 14 horse facility. Careful programming produced a barn, indoor dressage/jumping arena and farm manager's quarters. The barn facilities included tack, utility, feed rooms, hay loft and lounge.
Three-Day Event Training Center, California
West Coast facility for the Three-Day Event. Using an existing competition site with cross-country courses up to the Advanced level, the project included stabling for 80 horses, housing for 40 riders, separate indoor dressage and jumping arenas, offices and veterinary facilities.
* As Associate at Perry, Dean, Rogers & Partners
---
US Eventing Association's Official Website
Equiworld
American Connemara Pony Society
American Driving Society
American Endurance Ride Conference
Federation Equestre Internationale (FEI)
Hay and Pasture
United States Dressage Federation - A source for "Under Foot" about the construction of outdoor arenas
New England Dressage Association
United States Equestrian Team
United States Pony Club
United States Polo Association

The American Horse Council
The Kentucky Horse Park and The International Museum of the Horse
The Chronicle of the Horse
The Blood-Horse Interactive
The Horse Interactive
Horse Country - Junior Riders Web Page - A place for kids to discuss real horses and equestrian concerns
HorseWeb.com -A very extensive horse site
Equinet - Classified ad service
HorseList.com
The Jockey Club - Thoroughbred related site
University of Kentucky Equine Research Foundation
Equine Resources - From Oklahoma State, very informative
Cornell University's listing of poisonous plants.
Equine World U.K
Horsekeeper.com, Nancy Ambrosiano's page
Cherry Hill Books - Information on training and horse care
Jessica Jahiel's holistic horsemanship page - Review of horse books and videos and audio cassettes, etc.
Breakthrough Publications
The Horse Exchange
Equisearch
EquiWorld Magazine
Links to news about Warmbloods

---
American Institute of Architects Home Page - All about the AIA

Massachusetts Architects
Boston Society of Architects
AEC InfoCenter: Architectural Firms and Services - Another architectural resource
BuildFind - A Builders Network
The Building Industry Exchange - Internet Resources for the Building Industry.
Cyburbia - Planning and Architecture Internet Resource Center
BuildingOnline - Building Products
The Building Trades Directory
ConstructInfo.com

---
Copyright ©1996 -2009 Harrison·Banks. All rights reserved.
E-Mail: Harrison-Banks
This page was created on 6 February 1996 and last modified 25 August 2009.
---